Our host.
We toast our host.
Not sure, but we think our host is toasted.
The entire dinner group minus the photographer.
Phyllis with the Chef and our Chief Server. The staff at this Palm location is superb. The food is, without doubt, the best of any of the 18 Palm locations I've eaten at in the country. If you are in Orlando, go have dinner. It's expensive but worth it. We've never been dissapointed.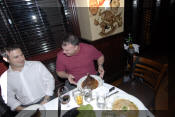 While Jason wasn't angry, he did have a cow.
Really. We're not kidding. He ate a cow. See?